Drink-driver who killed Jamie Still in Otley is jailed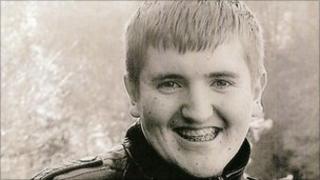 A drink-driver who killed a teenager has been jailed for four years by a judge.
Jamie Still, 16, from Otley, was hit by Max McRae's Vauxhall Corsa in Otley, West Yorkshire, on New Year's Eve.
McRae, 21, of Warren Lane, Arthington, Leeds, was almost twice over the drink-drive limit, Leeds Crown Court heard.
McRae, who admitted causing death by careless driving, had been travelling at speeds estimated at 50mph in a 30mph zone, the judge was told.
McRae had been using his mobile phone shortly before the accident and his girlfriend had called him 12 times in the half hour before the crash to try to stop him driving, the court heard.
McRae had been performing handbrake turns in the vehicle in the car park of a garden centre not long before the fatal accident.
After the case Jamie Still's family issued a statement that included a plea.
It said: "Until only a few weeks ago McRae remained at liberty to continue to drive.
"Not only is this totally disrespectful to Jamie, it is agony to bear for his family and friends.
"Why does the law allow offenders such as McRae the right to continue performing the activities that led to someone's' death?
"Please, please can we change this anomaly in the law and show some respect and feeling for victims and not perpetrators."