Youths made to remove Hunslet cemetery graffiti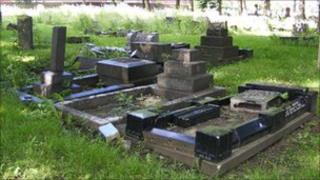 Five young people have been made to clean up a graveyard in Leeds after graffiti was found on headstones.
Three boys and two girls, aged between 12 and 16, were moved on from Hunslet Cemetery by police community support officers (PCSOs) on Tuesday.
PCSOs then spotted the damage and the youths all admitted being responsible when they were tracked down.
The work is a "community resolution" and is an alternative to prosecution, police said.
As well as removing the graffiti, the youths will also pick up litter and carry out ground maintenance.
'Mindless act'
Insp Yvette Hammill said: "We take any incidents in and around the cemetery extremely seriously because we understand just how upsetting they are for many members of our local community.
"Damaging gravestones is a mindless act, but on this occasion those involved are young people who haven't previously come to our attention.
"Arresting them and prosecuting them could have a major impact on their future prospects and careers, and by going down this route we're giving them a chance to learn their lesson."
West Yorkshire Police said additional patrols had been launched in and around the cemetery following a spate of thefts and damages.