Leeds City Varieties' £9.9m refurbishment ready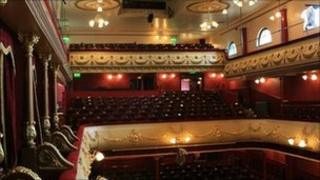 One of the best surviving examples of a Victorian music hall in the UK has unveiled the results of a £9.9m refurbishment.
The Grade II*-listed City Varieties in Leeds will reopen in September having been extensively restored.
It was the home of The Good Old Days, the BBC's long-running TV variety show for over 30 years.
Once there were more than 300 such theatres nationwide but few now remain in working existence.
Facilities for audiences and performers have been improved with new seats and technical equipment installed.
The renovation started in 2009 has been carried out in the style of the 1890s including restoration of the historic ceiling and plaster work.
Charles Thornton, opened his New Music Hall and Fashionable Lounge in 1865 above a public house in a Leeds side street.
Charlie Chaplin
The City Varieties - as it later became known - has survived virtually unchanged.
Its stage has hosted Charlie Chaplin, Harry Houdini, Lillie Langtry, Mickey Rooney, Frankie Vaughan and Barry Cryer.
It was in 1953 that the Varieties became the home of The Good Old Days.
David Evans, of Leeds City Council said that "The idea of the project is to bring the hall back to life. It's quite unique in the North of England and it fully deserves to be restored to all its glory".
The first post-refurbishment show, starring Ken Dodd, is already sold out.
The work has been funded by over £5m from Leeds City Council and almost £3m from the Heritage Lottery Fund with £720,000 raised by the Friends of City Varieties.
Another £535,000 is still to be raised through fundraising.