Pontefract dig uncovers English Civil War 'casualties'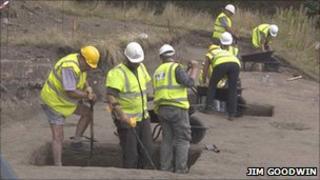 Archaeologists working on the site of a former hospital in West Yorkshire have uncovered human remains thought to date back to the English Civil War.
The bones, including a hip bone and parts of a skull, were dug up in the grounds of the old Pontefract General Infirmary, currently being demolished.
The remains are believed to be of civilian casualties from the third siege of Pontefract in 1648.
Other finds include Tudor pottery and part of the town's 13th Century priory.
'Civilian casualties'
St Richard's Priory in Pontefract was closed in 1538 as part of Henry VIII's dissolution of the monasteries, but townspeople were forced to re-open its cemetery during the English Civil War over 100 years later.
Field director Simon Tomson said that during the Civil War Pontefract's other cemeteries were "inaccessible because of the siege".
"But the civilian casualties still had to be buried somewhere," he said.
"What we are already finding is pieces of human bones, and they are certainly not tiny pieces."
Remnants of 18th and 19th Century liquorice cultivation have also been found on the site, together with indications of everyday life in Pontefract in previous centuries such as pipe bowls and animal bones.
The excavation is due to finish in early October.
David Wandless, chairman of Pontefract and District Archaeological Society, said: "Eventually, this will be re-filled and seeded over. That's good because it will protect the site for the future."