Leeds bus lane cameras come into force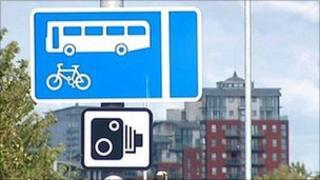 Drivers illegally using bus lanes in Leeds will start receiving £60 fines from Monday.
The council said it had decided to clamp down on abuse of bus lanes after a survey showed it was "rife" .
Cameras have been filming motorists during the past fortnight and issuing "dummy" warning notices by post.
From Monday, drivers will be issued real £60 Penalty Charge Notices (PCNs) for driving through bus gates or down bus lanes during operating times.
'You've been warned'
Richard Lewis, Leeds City Council's executive member for development, said: "We have been warning motorists that this scheme is on the way for quite some time now.
"In an ideal world everyone would obey the law and we would have no need to do this, but our surveys show that abuse of bus lanes is rife and it therefore needs to be clamped down on to help keep the city moving.
"My message is that driving in bus lanes has long been illegal, you have been warned and you will no longer get away with it."
A survey by the council in late January found 1,941 drivers illegally cutting into city centre bus lanes over three days in the same week.
The vast majority of these offences took place during the morning rush from 07:30-09:00, holding up buses full of commuters and other passengers.
Along one bus lane leading onto the Armley Gyratory, 572 drivers were filmed breaking the law in one day.
If the cameras succeed in improving traffic flows, the council also intends to introduce a mobile camera to tackle problems elsewhere on the city's road network.