M&S signs up to Bradford's long-delayed Broadway centre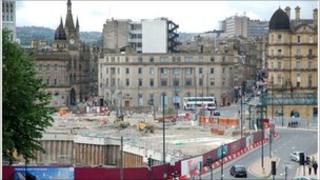 Marks and Spencer has committed to becoming one of the anchor stores at Bradford's long-delayed Broadway shopping centre.
The company will take on a 60,000 sq ft store at Westfield's £275m scheme.
Work stopped on the development when the economy stalled but developers have since announced revised plans.
Peter Miller, from Westfield, said the Marks and Spencer store would strengthen the overall attraction of the city centre.
Work on the shopping centre started in March 2004 but was halted in February 2008, leaving a building site in the city centre.
Last month, developers announced scaled-back plans for the site, which were described as "more market-relevant and desirable".
A new planning application is yet to be submitted and details will not be finalised before a public consultation.
Jobs boost
It is believed, however, that construction might start again in the first quarter of 2012.
Mr Miller, chief operating officer at Westfield, said: "We are very pleased that Marks and Spencer have committed to taking one of the two anchor stores at our Bradford development, demonstrating their confidence in the city."
He added: "There has been strong interest from retailers who are keen to take space in the scheme and we look forward to announcing further signings in the future.
"This scheme will deliver significant investment in Bradford and create thousands of permanent new jobs for the community."
The Westfield Group operates 119 shopping centres across the world including in Australia, New Zealand, the United States and elsewhere in UK.