Leeds Kirkgate Market plans: a 'dangerous strategy'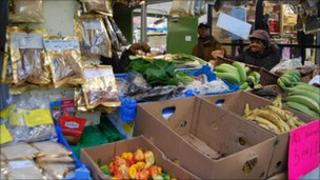 A proposal to reduce the number of stalls at Europe's biggest indoor market is a "dangerous strategy" according to a campaign group.
Sara Gonzales from the Friends of Leeds Kirkgate Market called instead for "more investment and imagination".
Leeds City Council is also considering handing control of the market to an outside company run by the council.
Councillor Richard Lewis said a report gave "a number of options" to take the market "to the next level".
The suggestions are made by the council's scrutiny board as part of an inquiry into the future of the market.
The Friends of Leeds Kirkgate Market group is opposed to reducing the market's size and is concerned that it may shrink by more than half its current size.
The group formed about 15 months ago to campaign for the market to retain its character as an "affordable" place to shop.
It is calling for lower rents and more investment at the market.
Ms Gonzalez added: "The market is the best place in Leeds, it is the most diverse public space in the city.
Ms Gonzalez fears the council might only want to keep the Edwardian part of the complex and turn it into a "different" market.
'Dead wood'
The market has about 180,000 weekly visitors and part is still housed in temporary buildings, put up after a fire in 1975.
Phil Bennett, a butcher in the market's Meat Row, agreed with the idea to reduce stall numbers and cut the "dead wood".
He said: "We should build a market around the successful people that are here."
Councillor Richard Lewis, Leeds City Council executive board member with responsibility for development, said: "I believe with work beginning on the Eastgate and Trinity Quarters, this provides a real opportunity for us to drive the market to the next level."
Mr Lewis added that future of the market faced "significant challenges" in the current economic and retail climate.
The market was being discussed at the council's executive board on Wednesday.