'Unparalleled' story of black rugby star Cec Thompson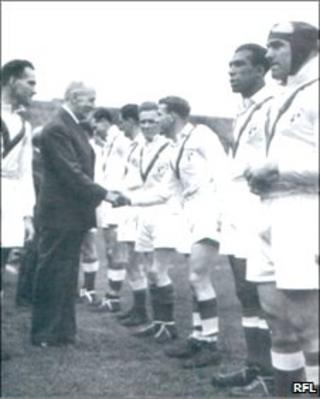 "His story is probably unparalleled in British sport, never mind rugby league."
Tony Collins, of the International Centre for Sports History at De Montfort University, has no doubt about the significance of Cec Thompson, who died on 19 July at the age of 85.
In 1951 the Hunslet and Workington forward won two Great Britain caps, the high point in the sporting career of a man who overcame prejudice and illiteracy after a difficult start to life.
Mr Collins said: "Where he came from and then ended up is almost unbelievable."
Theodore Cecil Thompson was born in 1926 in County Durham, where his mother came from. His Trinidadian father was working in Leeds but died before his son was born.
Due to poverty, and the early death of his father, the future rugby player's early childhood was spent in orphanages.
In 1938 the family was reunited when he finally returned to his mother's house in Leeds. He went on to serve with the Royal Navy during World War II.
He was working in Leeds after the war when he tried rugby league for the first time with a works team. Within just a few games he had signed as a professional for Hunslet, his local team.
In The Glory of Their Times, a book about black pioneers in rugby league, Thompson wrote: "Little did I know that rugby league would bail me out of a bottomless pit."
He described how his memories of being treated as a second-class citizen spurred him on to succeed.
He recalled that people would not sit next to him at the cinema or on the bus - yet he said no Hunslet player made mention of his colour and the team were "like siblings" to him.
'Hunslet's darkie'
Mr Collins said: "Rugby league enabled him to change the complete arc of his life."
In 1951 his form got him an international call-up for Great Britain against New Zealand.
The Daily Herald produced the now scarcely believable headline "Hunslet's darkie one of Britain's heroes".
In 1953 he transferred to Workington Town, where he spent seven years before his playing career ended with a couple of games in the 1961-62 season for Barrow, where he also went on to coach.
Embarrassed at only being able to slowly print his name when fans asked for autographs, he taught himself to read and write.
Towards the end of his rugby career he entered seven years of formal education which he paid for himself.
He took O-levels and A-levels and, at the age of 39, went to Leeds University.
It was there he was also involved in forming the first student rugby league club in the country.
Thompson went on to became an economics teacher and, after more than 20 years in the classroom, he retired as head of economics at Chesterfield Grammar School.
In 1995 his autobiography, Born on the Wrong Side, was published.
Thompson, who had suffered ill health for several years, was cremated at a service in Chesterfield on Tuesday.
He is survived by his wife Anne and a son.