Supergrass given drugs by West Yorkshire Police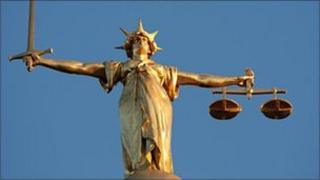 Police in West Yorkshire took a murder trial witness to a brothel and allowed him to use drugs to ensure he co-operated, the Supreme Court has found.
Supergrass criminal Karl Chapman also had sex with a policewoman and socialised at officers' homes.
Violent crimes allegedly committed by Chapman were also ignored by the force.
He was given special treatment because he was the main prosecution witness in the case of Paul Maxwell who admitted murder at trial in June.
One of the Supreme Court judges, Lord Brown said a number of officers, including "several of high rank" took part in a "prolonged, persistent and pervasive conspiracy to pervert the course of justice".
'Sustained dishonesty'
Maxwell and his brother, Daniel Mansell, were originally found guilty of an attack on 85-year-old Joe Smales in Wakefield in 1996 after a Leeds Crown Court trial in 1998 which was based largely on the evidence of Chapman.
However, the convictions were quashed by the Court of Appeal in 2009 on the grounds they had been "procured by gross prosecutorial misconduct".
But last month at Leeds Crown Court Maxwell pleaded guilty to the murder of Mr Smales and was jailed for seventeen-and-a-half years.
Lord Brown stated: "To describe police misconduct on this scale merely as shocking and disgraceful is to understate the gravity of its impact on the prosecution process.
"It is hard to imagine a worse case of sustained prosecutorial dishonesty designed to secure and hold a conviction at all costs."
Heroin use
The Supreme Court judgment, published on Wednesday, revealed the "variety of wholly inappropriate benefits" bestowed on Chapman by officers.
The full extent of the corruption was uncovered by a North Yorkshire Police investigation on behalf of the Criminal Cases Review Commission (CCRC).
Referring to the report, Lord Brown said: "Amongst the more surprising were that whilst in police custody Chapman was at various times permitted to visit a brothel, to engage in sexual relations with a woman police constable, to visit public houses, to consume not merely alcohol but also cannabis and even heroin, to socialise at police officers' homes."
West Yorkshire Police Deputy Chief Constable David Crompton said the methods used to deal with the main witness in the original investigation "were wholly unacceptable and cannot be condoned in any way whatsoever".
He said because of that, it was highlighted to the Criminal Cases Review Commission.
Mr Crompton said: "As a result of that extensive and lengthy investigation, the Crown Prosecution Service decided there should be no criminal proceedings in relation to any officer.
"Nevertheless, in light of the criticism levelled by the Supreme Court judges, we feel it now appropriate to re-examine the previous decisions made several years ago which were based upon the outcome of both the criminal and disciplinary investigations conducted by North Yorkshire Police."
He added: "Since the original investigation was carried out 16 years ago there has been a complete root-and-branch overhaul of procedures to safeguard against such failings and to prevent them from ever happening again."
He said the case would now be referred to the Independent Police Complaints Commission."