Yorkshire Sculpture Park opens a further 150 acres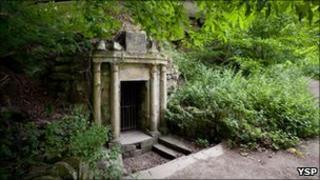 Visitors to the Yorkshire Sculpture Park will be able to explore a further 150 acres of woodland after an renovation lasting almost a year.
Work began at the park in West Bretton, near Wakefield, in 2010 to restore lakes, footpaths, bridges and follies.
The £500,000 project in the middle of the park is on land never before opened to the public.
Peter Murray, executive director of the park, called the work "the final piece of the jigsaw".
Mr Murray said the renovation had reunited the 500 acres of the Bretton estate.
New features on show include a summer house, a land-locked boat house, an obelisk and a shell grotto.
The work includes 2.5 miles (4km) of newly cleared footpaths.
A sculpture by Antony Gormley also gets a new home on a beech tree overlooking the park's Cascade bridge, after being in storage for more than 18 months.
The changes have tried to uncover details of the park's 18th Century landscape and original vistas.
The historical features were built for generations of Dronsfields, Wentworths and Beaumonts, the families that owned the Bretton Estate between the 1400s and the early 1900s.
Councillor Peter Box, Wakefield council's leader, hailed the work as a "major restoration project".
The sculpture park opened in 1977 and now attracts more than 250,000 visitors a year.
The new areas will be opened from Saturday, with a weekend of celebratory events.