Wakefield plans to cut cash to 12 libraries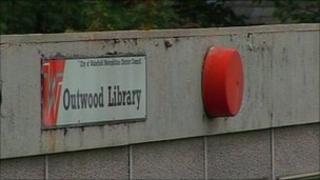 The future of 12 libraries in Wakefield is uncertain under council plans to cut their funding.
Councillors will consider ending financial support for the sites and instead allow community and volunteer groups to take over the running.
The proposals would see 13 libraries continue to receive council cash.
The Labour-run authority said library visits had fallen by 43% since 1992 and savings of £67m were by 2015.
The council's cabinet will consider a report on the issue on 26 July.
The report states: "(Libraries are) only being used at the highest levels by 8% of the people who live in the area and in some areas as few as 1% of the local population," it said.
The report adds: "The traditional model for library provision in Wakefield has been in place for more than 30 years.
"It is a model created when people visited their local library to purely borrow a book, and bought books from bespoke bookshops.
"Since this model was devised, technological innovations have changed reading and library usage.
Voluntary redundancy
"These changes mean the current library provision in Wakefield is not based on what customers want... in other words, it is no longer fit for purpose."
A public consultation into the future of the library service will take place if the report is approved.
The council said government cuts of £67m over four years meant the changes had become more "acute" but would have been necessary regardless.
The sites proposed to continue with council funding are: Horbury, Ossett, Stanley, Sandal, Wakefield city, Airedale, Castleford, Featherstone, Knottingley, Normanton, Pontefract, Hemsworth and South Elmsall.
Councillor David Dagger, cabinet member with responsibility for libraries, said he hoped the changes would not result in compulsory redundancies.
"If any staff do have to be made redundant, they would all be voluntary.
"Obviously we can't guarantee that, but we would hope it to be the case."