Queen's cousin Lord Harewood dies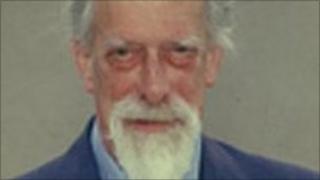 The Queen's first cousin, Lord Harewood, has died aged 88 at the family home Harewood House near Leeds.
George Lascelles, the 7th Earl of Harewood, had devoted much of his life to opera and served as the editor of the Opera magazine.
Lord Harewood had served as the chairman of the board of the English National Opera, a governor of the BBC and president of Leeds United FC.
At the time of his birth he was sixth in line to the throne.
As of the birth of Savannah Phillips, the daughter of Peter Phillips, in 2010, he was 46th in line to the throne.
Books of condolence
A family statement said he had died peacefully at his home.
"It was Lord Harewood's wish that Harewood House and grounds should continue to remain open to the public on his death, and during the period of family mourning leading up to his funeral," the statement went on.
"Books of condolence will be opened for visitors to sign in both the house and All Saints Church.
"The family will hold a private funeral. A thanksgiving service and celebration of George Harewood's life will be held at a later date. Details will be announced shortly."
Richard Mantle, general director of Opera North, paid tribute to Lord Harewood, saying: "He was an immensely liberal person.
"He had very firm views. He was a man of enormous wit and enthusiasm.
"He was also completely loyal as a friend, and that I will always treasure.
"He was passionate that opera should be for everyone and so he created what is still the only full-time English opera company outside of London."
Football passion
Mr Mantle also said Lord Harewood had a passion for Leeds United Football Club, which he served as president since 1961.
Mr Mantle added: "There were many first nights which I hoped he would come along to, only to find he had gone tearing off to Elland Road.
"He was absolutely passionate about the club."
Leeds United said the club had been due to mark Lord Harewood's 50 years as president with a surprise party in September.
Club chairman Ken Bates said: "Although he was royalty, he always treated me as an equal and I feel like I have lost a true friend."