Two men charged after Halifax EDL and UAF demo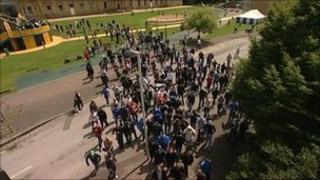 Two out of six people arrested have been charged following demonstrations by the English Defence League (EDL) and Unite Against Fascism (UAF) in Halifax.
Police estimated that about 450 people joined the EDL march, with about 70 taking part in the counter-protest.
A total of six people were arrested during Saturday's demonstrations.
A 21-year-old man has been charged with possessing an offensive weapon. A 17-year-old male has been charged with assaulting a police officer.
West Yorkshire Police said the 17-year-old, from Bradford, had also been charged with a public order offence and would appear before the city's magistrates on 20 July.
The 21-year-old, also from Bradford, will appear in court on 21 July.
Police said one officer suffered a dislocated shoulder during the EDL demonstration at the Eureka venue but had since returned to duty.
A 14-year-old and 16-year-old from Bradford were detained for breach of the peace but have been released without charge.
A Pontefract man, 25, was arrested for breach of bail and has been detained to appear at Bradford Magistrates' Court on 11 July.
A 29-year-old Stafford man was also given a penalty notice for disorder.
A police spokeswoman said officers, the council and other partners worked together to keep trouble to a minimum.