Leeds city centre Eastgate scheme gets full approval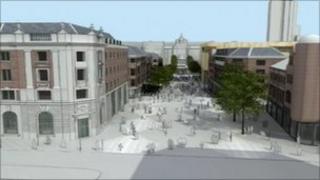 Revised plans for a £600m shopping development in the Eastgate area of Leeds have been approved by the city council.
The site, next to the Victorian Quarter, is expected to include 130 shops and create up to 4,000 jobs.
Construction on Eastgate Quarters was due to start in 2009 but borrowing and retail trade fears forced a delay.
Developers Hammerson said the scheme would strengthen the city's status as a "leading European destination".
The plan will include the restoration of the Grade II listed Templar House set around a new public square.
The scheme will create thousands of retail and leisure jobs and "transform the site north east of Leeds city centre, most of which has been empty for the past four decades", the developers said.
The Eastgate Quarters project will include John Lewis and Marks & Spencer stores, alongside 130 new retail and restaurants units.
European destination
Hammerson said the scheme will include major changes such as a new civic square and the pedestrian-only streets within Eastgate Quarters.
The plan will include a low carbon energy centre that will provide heating, cooling and electricity for the development and neighbouring homes and businesses.
The scheme includes the restoration of historic buildings at Templar House, a two level shopping arcade refurbished offices and what is estimated to be the largest shopper car park in the city with around 2,500 spaces.
Andrew Hilston, Project Director for Eastgate Quarters said: "The scheme will create thousands of jobs, boosting the local economy, and will strengthen Leeds' status as a leading European city destination."
Councillor Richard Lewis who is responsible for city development said it would bring investment and regeneration to a part of the city centre.