Bradford still 'deeply segregated' after riot in 2001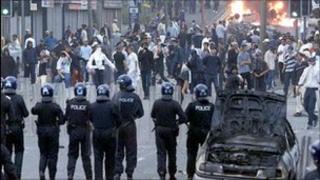 Ten years after the Bradford riots, the author of a report into the violence has said the city remains "one of the most deeply segregated in the country".
Professor Ted Cantle, who wrote a report on the cause of the riots, said a lack of integration in communities and schools meant it was still divided.
Damage mounting to £10m was caused to the city in the riots on 7 July, 2001.
The council disputed the claim saying the city is not "deeply divided" and work is done to promote integration.
More than 1,000 police officers from 10 different forces were involved in controlling the violence.
The events were a result of heightened tension between the large and growing ethnic minority communities and the city's white majority, stoked by confrontation between the Anti-Nazi League and far right groups.
'Positive' experience
Mr Cantle said: "If we've got divided workplaces, schools, housing areas and Bradford is one of the most deeply segregated cities in the country, then clearly it's not possible for people to draw understanding from each other."
The professor said although there had been "a great deal of progress in Bradford" there was still "a great deal to be done".
"There has been a very big programme of community cohesion and some very encouraging results... in Bradford they are still well below national averages."
Mr Cantle added that government cuts meant community cohesion programmes and initiatives to promote integration in the city was under threat.
Ishtiaq Ahmed, of Bradford Council for Mosques, said his experience of living in Bradford was very different.
"I work with all communities in Bradford in different ways and my experiences of being in Bradford are very positive and I think that's shared by many Bradfordians."
A spokesperson for Bradford council said: "Our approach to addressing issues of perceived segregation has been to raise greater understanding of what is important about each other and how we have more in common than difference, and to challenge intolerance through education, dispelling myths and stereotypes."