Manningham calmer 10 years after Bradford riot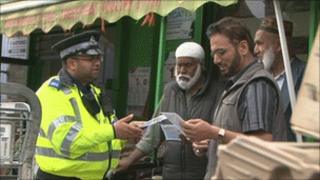 Ten years after the Bradford riot the district most affected has one of the lowest crime rates in the city.
In Manningham police are now using specialist neighbourhood teams on the same streets that were scarred by the riot, which erupted on 7 July 2001.
There are now 40 officers patrolling the district compared to just four in 2001.
Khalil Alam, of West Yorkshire Police, said he believed the officers were "just part of the family now".
More than 1,000 police officers from 10 different forces were involved in controlling the riot.
Police made 312 arrests and an estimated £10m of damage was caused.
'Crowd frenzy'
Shazad Ali, who was sentenced to four years in prison for throwing stones during the riot, said: "When I did throw those two stones, realistically I can't even remember how I got dragged into this.
"There was a lot of crowd frenzy, a massive crowd.
"It is something that happened, it is something that shouldn't have happened, but it is something we have moved on from."
Mr Ali now works in the city for a social inclusion project trying to prevent disaffected youngsters turning, once again, to violence.
"These young people have the same difficulties that I had," he added.
"I am here to say 'calm yourselves down' and find a way to work the problem."
Many people believe that the city's biggest test of the decade was passed in August 2010 when the English Defence League held a rally in the city centre.
It was feared trouble could have escalated to another riot but it did not happen and the rally passed off comparatively peacefully.
West Yorkshire Police praised the behaviour and sense of community sprit in Manningham on that day.