Bandleader Ivy Benson gets Leeds blue plaque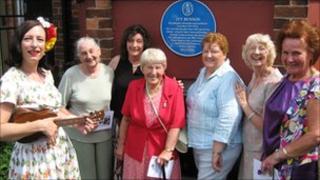 A female bandleader has been commemorated with a blue plaque on her childhood home in Leeds.
Ivy Benson and Her All Girls Orchestra became the BBC's resident dance band in 1943 during World War II.
Her story is told on the new plaque erected by Leeds Civic Trust in Cemetery Road, Holbeck.
Veronica Lovell, who researched Ivy's life and times for the trust, said: "It's a great story and great for Holbeck. She was no mean musician."
World War II gave Ivy Benson a chance to break into the world of big bands as many men went to join the forces.
After the liberation of Europe in 1945, Ivy's band was specifically requested by General Montgomery to go out and play to the troops.
Her band featured with many of the era's variety greats including Max Miller and Hylda Baker.
Hundreds of women played in the orchestra during the 40 years Ivy led the band.
She was born in Leeds in 1913, went to school in Holbeck and was reportedly playing in local clubs as a young girl with the nickname 'Baby' Benson.
She left school and went to work at Montague Burton's large clothing factory in Leeds, saving up to buy her first saxophone.
The band continued to play on into the 1980s, appearing in many summer seasons on the Isle of Man.
Ivy retired to Clacton, Essex, where she died in 1993.