Victims of Bradford riot fire 'feel no bitterness'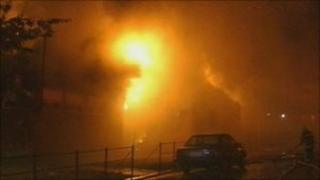 Two people who were trapped in a burning social club during the Bradford riots say they feel "no bitterness" a decade on from their ordeal.
Manningham Ward Labour Club was firebombed by rioters on 7 July 2001, trapping 23 people inside.
Nora Baxandall and Pauline Milner said they were "just grateful" no-one died.
In 2003, Bradford businessman Mohammed Ilyas was found guilty of the arson attack on the club and was jailed for 12 years.
Ilyas was also found guilty of being reckless as to whether life was endangered, but he was cleared of arson with intent to endanger life.
He was captured on police cameras wearing an Afro-style wig and throwing burning cardboard through a broken window at Manningham Ward Labour Club.
The club was burned to the ground after petrol bombs were thrown by a group of Asian youths during the riots, which began on 7 July 2001.
The events were a result of heightened tension between the city's white community and ethnic minorities and had followed confrontations between the Anti-Nazi League and far right groups.
'Completely isolated'
Returning to the site of the destroyed club 10 years after the riots, Mrs Baxandall, 43, said club regulars were forced to hide in the building's cellar to avoid the flames.
She said: "We were completely isolated. We had no idea what was happening outside, or the extent of the damage, because there were no windows."
Mrs Milner, 55, said the attack on the club came as a total shock.
"I just could not believe that we had been sat in there the night before, having a drink and talking, being friendly and watching the turn [act]," she said.
"Then this happened."
The 23 people inside Manningham Ward Labour Club were eventually led to safety by police after more than an hour in the cellar beneath the burning club.
Police later described the arson attack as "the single most serious incident" of the riots.
'Like a bereavement'
Mrs Baxandall said the events of that night in July 2001 had a long-lasting effect.
"Suddenly I was aware that I wasn't as infallible as I thought," she said.
Manningham Ward Labour Club has since been rebuilt nearby, but Mrs Milner described the loss of the old club as "like a bereavement".
"We have a new club but it is not the same. It will never, ever, be the same," she said.
But Mrs Milner said she had come to terms with the events of 7 July 2001.
"I can honestly say I feel no bitterness," she said.
"I'm sad and upset and I felt more bitter to begin with, but it's gone now.
"We're just so grateful that no-one lost their lives."