Wetherby security alert caused by treasure hunt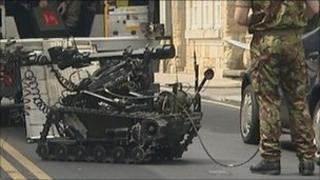 A 20-year-old man has been cautioned after a suspect package which turned out to be part of a treasure hunt was found in West Yorkshire.
Bomb squads were called to a cafe in Wetherby on Friday, after being alerted to a plastic box hidden under a planter.
Police were called when a waitress saw the box being hidden.
Local businesses were evacuated for four hours, and a 100m (328ft) cordon was put in place.
The waitress working at The Gourmet cafe saw a man talking on a mobile phone and acting "furtively" before slipping a small plastic toolbox sealed with industrial tape beneath a flower planter.
Insp Marcus Griffith, from West Yorkshire Police, said they had to take the situation seriously.
"Until we are satisfied what the package is, we have to treat it as suspicious."