Consultation over Leeds children's heart unit ends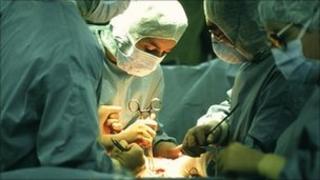 Campaigners aiming to keep a specialist children's heart surgery unit at Leeds General Infirmary have vowed to keep lobbying for support, as a public consultation on an NHS review ends.
The unit is under threat as officials consider future provision at 11 centres.
The Save Our Heart Surgery Unit campaign has collected more than 500,000 signatures.
The group says it expects a decision on the unit's future sometime in 2012.
Sharon Cheng, the director of fundraising at the campaign, said that 540,000 signatures had already been collected urging officials to retain the service in Leeds.
Fears had been raised that the loss of the Leeds unit, which provides treatment across Yorkshire and the Humber, will force patients to travel long distances and could cost lives.
The NHS review looked at all 11 units in England amid concerns expertise was being spread too thinly.
It has proposed four options - all of which involve stopping operations at either four or five hospitals.
The proposals had been put out for public consultation with a final decision made later.
But it could be 2013 before all the units finally stop doing surgery.
The four options are to keep units open at either:
Leeds, Liverpool, Bristol, Birmingham plus two in London
Newcastle, Liverpool, Leicester, Birmingham, Bristol plus two in London
Newcastle, Liverpool, Birmingham, Bristol, Southampton plus two in London
Newcastle, Liverpool, Birmingham, Bristol plus two in London