Thornhill Hall's 'fascinating history' to be studied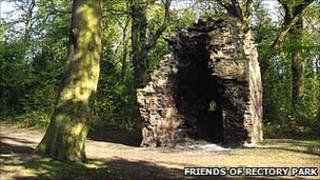 The "fascinating history" of a medieval West Yorkshire hall which was blown up during the English Civil War is to be studied thanks to a £46,800 grant.
The Heritage Lottery Fund award means an archaeological study of the ruins of Thornhill Hall near Dewsbury can begin.
The remains of the hall, which was virtually destroyed in 1648, are Grade II-listed and are currently classed as "at risk" by English Heritage.
A community archaeologist will help local people rediscover its history.
The hall, whose ruins are located in Rectory Park, Thornhill, was the seat of the Savile family from the 14th to the 17th Century.
Mysterious explosion
In August 1648, Lady Anne Savile's troops defended the manor from attack by Parliamentary forces, but they were eventually forced to surrender.
A mysterious gunpowder explosion destroyed most of the hall shortly afterwards, with the remainder of the building consumed by fire.
Today, the site is largely overgrown with only its moat, fireplace, front wall and two statues still visible.
As part of the study of the site, scrub will be cleared, details of masonry will be recorded, and a number of community history events will be held.
Wade Hyde, chairman of the Friends of Rectory Park, said: "We are privileged to be involved with this project to raise the historical profile of Thornhill Hall."
Fiona Spiers, head of the Heritage Lottery Fund in Yorkshire and the Humber, said the planned project was "fantastic".
"It will allow people to try their hand at something new and unusual and learn about the fascinating history of Thornhill Hall."
Work is expected to begin on the Thornhill Hall site later in the summer.