Cleckheaton giant hogweed warning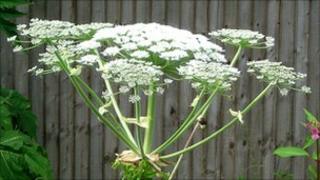 People in a West Yorkshire town are being warned to keep away from a plant which can cause severe blisters, scarring or even blindness.
Kirklees Council says giant hogweed, which resembles cow parsley, has been found in Cleckheaton.
Giant hogweed sap is very corrosive and even brushing against the plant can cause serious injury or skin problems.
Anyone finding the plant is advised not to touch it and to immediately contact Kirklees Council.
Giant hogweed can be identified by its reddish-purple stem with fine spines, and its spotted leaf stalks.
'Very invasive'
The plant can grow about 16ft (5m) high, has leaves up to 5ft (1.5m) wide, and has flower heads which can each produce about 50,000 seeds every year.
Kirklees Council said giant hogweed could be "very invasive" and early action was necessary to stop the plants seeding.
Councillor Peter Mcbride, cabinet member for Streetscene, said: "This weed is not only damaging to our environment but is dangerous too.
"Please let us know if you find it within Kirklees and we will take steps to deal with the problem".
Giant hogweed originated in the Caucasus mountains and was introduced into Britain by Victorian plant collectors.
Mostly found along river banks, landowners have a legal responsibility to prevent the spread of the plant, to protect the public from exposure to it and dispose of it correctly.