Hepworth Wakefield breaks 100,000 barrier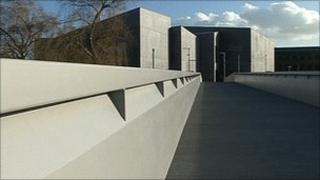 A West Yorkshire art gallery has welcomed its 100,000th visitor just five weeks after opening in May.
It was thought the Hepworth Wakefield gallery would attract a total of about 150,000 visitors in its first year.
But Christine and Michael Slater, from Thornes in Wakefield, have already taken visitor numbers beyond 100,000.
Mr Slater said: "We just popped along to have a quick look around and we had no idea we'd end up being the 100,000th visitor to the gallery."
Built alongside a weir on the river Calder, the Hepworth Wakefield is the largest purpose-built gallery to open in the UK since 1968.
It opened its doors on Saturday 21 May and attracted about 8,500 visitors on its first day.
'Wonderful response'
Dan Feeney, visitor services manager at the Hepworth, said the number of people coming to the gallery since its opening had been "phenomenal".
"It's fantastic to have hit this point when we were aiming for 150,000 visitors in a year," he said.
"The response has been wonderful locally, nationally and internationally."
Mr Feeney said visitor numbers so far seemed to be an "even split" between those coming from the Wakefield district and those travelling from further afield.
Visitors are said to have come to the Hepworth Wakefield from Japan, France and Australia.
The gallery is named after sculptor Dame Barbara Hepworth who was born in Wakefield in 1903.
Dame Barbara's family donated more than 40 of the artist's prototypes to the gallery which also features work by her contemporary Henry Moore, who was born in nearby Castleford.