Bradford College curry chefs to aid restaurant 'crisis'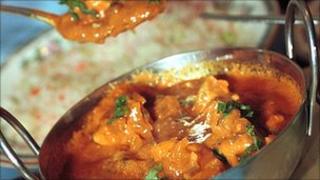 A West Yorkshire college is looking for potential curry chefs to stem the staff "crisis" in restaurants in the wake of tighter immigration rules.
Over the summer, Bradford College aims to recruit 50 students who will then receive on-the-job training in a number of the city's curry restaurants.
The college said immigration laws mean many Asian restaurants are struggling to find qualified chefs.
Students will be trained for between one year and two-and-a-half years.
Graham Fleming, head of Bradford College's International Food Academy, said curry restaurants across the UK faced a crisis and would have to turn to home-grown talent.
"That is why we are working very closely with the industry," he said.
"We are working with a lot of local employers and these apprentices will be employed full-time, coming into college just one day a week."
As well as working in established curry restaurants in Bradford, students will also be expected to prepare food for paying customers in the college's own restaurant.
'Raw talent'
Chef Bobby Patel, who owns and runs the Prashad in Bradford, said he welcomed the chance to help aspiring curry chefs achieve a professional qualification.
"We get the advantage of them working with us for four days a week and we get them to understand our industry," he said.
"But having them come through the college gives them a good foundation and the knowledge which it is always excellent to have."
Mohammed Aslam, head of the Aagrah chain of restaurants in West Yorkshire, said Bradford was an ideal place to train chefs to plug the gap in the current staffing crisis.
"There is a lot of raw talent in Bradford which needs to be developed," he said.
"We need quality chefs and we need to concentrate a lot more on their training."
Bradford College said it hoped the International Food Academy could eventually train about 100 students a year.