Two 'under-used' Bradford swimming pools to close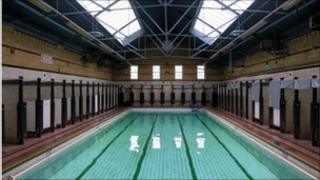 Two council-run swimming pools in Bradford are to close after a public consultation failed to find suitable bidders to take over their management.
Bradford Council said two bids for Rhodesway and Manningham pools were examined but neither was sufficiently "robust".
The authority blamed cuts in government funding for the closures.
It said in March that it was to withdraw the pools' funding, claiming they were the district's least used.
Councillor Ghazanfer Khaliq said: "This is a disappointing outcome for the people who use the pools but both are under-used and expensive to maintain."
Swimming club
The council said Manningham baths in particular needed "a significant amount of capital" to bring it up to an acceptable standard, and the closure of both pools would save around £120,000.
Businesses, organisations and individuals were invited to submit expressions of interest and business cases to run the pools, but the council said this had not led to any "viable" applications.
Mr Khaliq, Bradford Council's portfolio holder with responsibility for sport, said: "There are many other pools within the district, some nearby, which offer swimming lessons and lots of activities and we hope people will take up these opportunities."
Members of Bradford Dolphin Swimming Club, which used Rhodesway pool for its training, held a demonstration against the proposed closure in April.
The club said shutting the baths and leaving them empty would be a "waste".
The Victorian Society has protested against the closure of Manningham pool, which was opened in 1904.
Society director Ian Dungavell said the building was "important on a national level".