Leeds soldier 'regains freedom' after radical treatment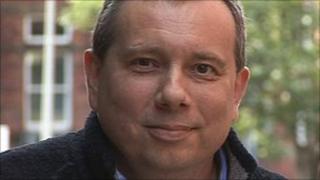 A West Yorkshire soldier who was severely injured in Iraq says he has regained control over his life after undergoing a radical new treatment.
Adam Douglas, who is 43 and from Leeds, suffered spinal injuries when a grenade exploded in Iraq in 2003.
Surgeons at St James's Hospital in Leeds have since fitted him with a device meaning he can better control his bowel and bladder functions.
Mr Douglas said: "It has given me back my independence and my freedom."
'Life changed'
Following the rocket-propelled grenade attack in Iraq, Mr Douglas said his injuries could have left him "a virtual prisoner in my own home".
"Life changed in the matter of a second, going from fully abled to fully disabled," he said.
Doctors at St James's Hospital considered Mr Douglas to be a suitable case for a treatment known as neuromodulation.
He was fitted with electrodes around the nerves which control bladder and bowel function.
These electrodes were connected to two remote controlled battery units which send electrical signals to the nerves, either increasing or decreasing sensitivity.
'Immeasurable changes'
Only a handful of trauma victims have been given this treatment worldwide.
Mr Douglas said since the operation he had regained his dignity and it had made "immeasurable changes" to his life.
"I have got most of my life back now. I don't have to think too hard about what I'm going to do and where I'm going to do it," he said.
"Even my children can see that Daddy is getting better. It's having an impact on everybody's life."