Castleford Tigers stadium 'will generate many new jobs'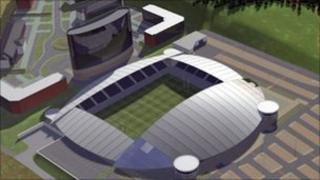 Hundreds of jobs will be created by the development of a new stadium for a rugby league club, officials have said.
Castleford Tigers recently gained planning consent for a new 13,300 capacity venue in West Yorkshire.
Now officials at the club say up to 1,000 construction jobs could result from the scheme along with a possible 1,000 more operational posts.
Jobs would be at the new stadium, at a proposed store on the club's old site and nearby business park and hotel.
Permanent positions
The rugby league team will move to the new 20-acre site in Glasshoughton by the start of the 2013 season.
Tigers agreed to move in a multimillion-pound deal that would see their current site become a supermarket.
Officials at the club said the proposed "large format retail store" at Wheldon Road - the club's current home - was expected to generate 300 construction jobs.
In addition the scheme was forecast to create up to 350 permanent operational positions.
A club statement said: "A new £12m community stadium for Castleford Tigers on the Glasshoughton site is also projected to create a further 300 jobs to build the 13,300 capacity venue.
"The planned stadium, which has recently received planning permission, will incorporate extensive conference and banqueting facilities.
'Huge investment'
"To accommodate extensive commercial activities both on match and non-match days the stadium will facilitate up to 300 new employment openings."
Officials at the club said the move to junction 32 of the M62 was also expected to create an additional £40m from surrounding commercial developments.
Planning permission secured for a business park and hotel was expected to bring 200 construction workers plus up to a further 400 operational jobs.
Club chief executive Richard Wright said: "The huge investment planned for the region is going to create significant employment opportunities for local people in Castleford and nearby towns.
"However, the sizeable capital investment and subsequent job creation is dependent upon securing planning permission in the first instance for a retail scheme at Wheldon Road."