Councillor Mark Dobson spends day as a Leeds "binner"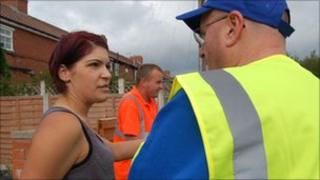 Eighteen months after a divisive bin strike in Leeds the councillor in charge of the service has "gone back to the floor".
Councillor Mark Dobson is the man responsible for environmental services on the executive board.
He took over the responsibility less than a fortnight ago and decided to put in a full shift as a "binner".
He said the the experience was "worthwhile" and had given him a real insight into the service.
The 11-week dispute, which ended in November 2009, saw rubbish piling up in some streets, prompting concerns about health.
The council empties 500,000 bins a week and an individual team will handle between 1,200 and 1,600 bins a day.
'Improving picture'
Mr Dobson claimed that now with only 500 "failures" a week there was an admirable success ratio.
"I won't rest on my laurels but there is an improving picture," he added.
Hearing claims of problems with collections across the city Mr Dobson admitted: "I am still aware that some of the rounds aren't perfect yet."
Mr Dobson arrived at the main depot on Cross Green Industrial Estate at 0600 BST to watch the process of dispatch and then, wearing high-visibility clothing, he joined in as part of a crew of four.
The depot is responsible for refuse, street cleaning and graffiti removal.
Mr Dobson joined the team - Harry the driver, Paul and Dave - in YK57 AOG, one of 60 wagons at the depot.
Mr Dobson was working alongside the crew on a round in Kippax, south-east of Leeds.
Householders collecting their bins as the team worked were surprised to find the councillor there but were not slow to put their concerns to him.
Becky Allatt, in Sandgate Terrace, was concerned with a lack of recycling bins.
She said: "I would like more regular collections but there is not enough bin space in the green bins even though I have two.
"We are five people in the house and we do recycle."
Mr Dobson listened carefully and promised to get her an extra bin.
The council claims that currently 36% of rubbish in Leeds is recycled and says it is on the way to a target of 50% recycling by 2020.
Mr Dobson also listened to the concerns of the crew who told him that they now struggle to finish the new longer rounds.
"I've learnt a lot today, not least the skill of the driver getting the wagon around streets full of cars," he said.