Yorkshire textile firm Westwood Yarns fined for crush death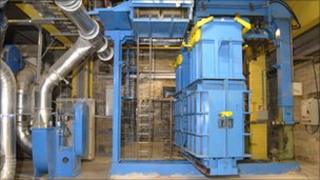 A West Yorkshire textile firm has been fined £60,015 after a worker was crushed to death in a baling machine.
Bradford Crown Court heard that Gary Lee, 40, was cleaning inside the baler at Westwood Yarns, Holmfirth, when it re-started, causing him fatal injuries.
The Health and Safety Executive (HSE) blamed the accident, on 3 January 2008, on "management safety failings".
The company admitted a breach of the Health and Safety at Work Act and was also ordered to pay £20,625 costs.
The court heard that Mr Lee, from Holmfirth, had been given no proper training in how to safely clean the baling machine.
'Preventable tragedy'
The HSE investigation suggested Mr Lee may have accidentally obscured an electronic sensor, which then re-activated the baler as it had been left in automatic mode.
The machine should instead have been shut down completely before cleaning.
Immediately after the incident, the HSE served an enforcement notice on the firm requiring improvements to ensure cleaning the baler was carried out safely.
HSE inspectors found "a lack of supervision and consistency in work processes" at the Washpit Mills factory.
Inspector Kirsty Townend, who carried out the HSE investigation, described Mr Lee's death as "an entirely preventable tragedy".