Leeds city railway station 'masterplan' unveiled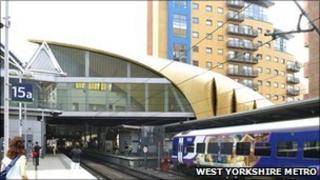 A "masterplan" outlining a series of improvements to Leeds city railway station has been unveiled.
The plan, announced by Network Rail, includes a new south entrance, concourse and 350 extra parking spaces.
The improvements are in response to a predicted rise of more than 60% in the number of people using Leeds station between 2011 and 2029.
Gavin McKechnie, from Network Rail, said it would make the station "a gateway Leeds could be proud of".
Network Rail, which owns and runs Leeds city station, claims the changes will ease passenger congestion.
Currently, about 18,000 people use Leeds city station every weekday during the peak morning period.
'Encourage growth'
The improvements have been planned by Network Rail and West Yorkshire Metro.
Work will begin on the south side of the station later this month, with plans for a new £15m entrance already approved by Leeds City Council.
West Yorkshire Metro chairman Chris Greaves said the new entrance, due to open by mid-2014, would be a boon to businesses in the south of the city.
"It will encourage business, residential and leisure growth south of the river Aire, which is a benefit to Leeds and the wider city region," he said.
The station upgrade plan includes new shops and restaurants on the north concourse and improvements to the entrance on New Station Street.
A multi-storey car park and improved short-stay and drop-off facilities at Leeds station are also due to be completed in 2014.
Mark Goldstone, from the Leeds, York and North Yorkshire Chamber of Commerce, said he was pleased Network Rail had "listened" to local businesses, but he believed further improvements would be needed.
"The additional car parking, improved pedestrian links and southern entrance will relieve some of the increased congestion," he said.
"But investment in additional platforms is also needed, as well as a review into how the station connects to other modes of local transport, such as the buses and taxis."