West Yorkshire Police officer ex-Mr Gay UK Mark Carter denies rape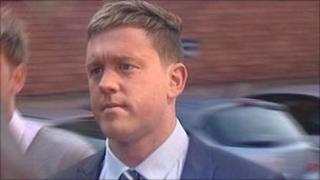 A police officer and former Mr Gay UK sexually assaulted three men and raped a fourth on a Christmas night out with colleagues in Leeds, a court has heard.
Pc Mark Carter, 28, is alleged to have dragged one man by the hair, punched him and raped him in a hotel room.
Mr Carter, of Station Lane, Birkenshaw, Bradford, denies three counts of sexual assault and two rapes.
He is an officer with West Yorkshire Police and a former holder of the Mr Gay UK title, Leeds Crown Court heard.
The jury was told that Mr Carter had been in a restaurant in Leeds on 18 December 2009 enjoying a Christmas celebration with colleagues.
Sarah Wright, prosecuting, said he initially groped two men, who he knew, in the restaurant.
The party then left the restaurant and the defendant went to Bar Fibre, where he allegedly touched a third man, who he also knew, on his groin and asked him if he wanted oral sex, the prosecutor said.
She told the jury the defendant then went to the Loft Bar in Queens Court, Leeds, where he met a fourth man and they ended up walking back to the Etap hotel in the city centre, where Mr Carter had booked a room.
Miss Wright said CCTV images would show the pair cuddling and leaving the bar walking hand-in-hand.
"The complainant says he assisted the defendant because he had cramp and difficulty walking. He said he put his arms round him because he was cold," she told the jury.
"Once at the defendant's room, the complainant was to tell police that the defendant opened the door and dragged him into the room by his hair."
Miss Wright said the complainant was punched in the face as he tried to pull away from performing a sex act on the police officer.
Mr Carter then went on to rape the man, the jury was told.
'Done in jest'
"The defendant persisted even though the complainant told him to stop. At some point the defendant bit the complainant's shoulder," Miss Wright told the jury.
She told the court the complainant showered and escaped as the defendant went into the shower after him.
In interview, Mr Carter said the incident in the restaurant was "done in jest" and he denied the allegations made by the two other men.
He claimed all the activity in the hotel with the fourth man was "consensual".
The trial continues.