Huddersfield Town gives 800 final tickets to children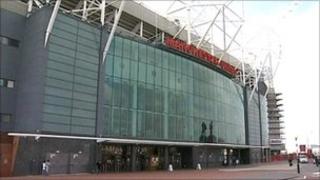 Hundreds of children will get into Old Trafford for free this weekend to see the culmination of Huddersfield Town's fight for Championship promotion.
They will travel to Manchester for the League One club's play-off final against Peterborough after an appeal by Huddersfield Town chairman Dean Hoyle.
Mr Hoyle's appeal raised £25,000 in just two days after he sent texts and flyers to local business contacts.
Mr Hoyle said he hoped to invite around 800 children from poorer backgrounds.
He said: "It is an opportunity for a day out for these kids. It is pretty tough out there.
"These kids probably never get the chance to go and watch Huddersfield Town at the Galpharm stadium, never mind go to Old Trafford."
The children will join around 30,000 other Huddersfield Town fans expected at Old Trafford on Sunday for the match which could see the club promoted to the Championship.
'Absolutely astounding'
Mr Hoyle said it was "magnificent" that so much money was raised in such a short time.
He said: "We have had corporate clients pledge money but, equally importantly, we have had fans coming up to pledge too.
"It's absolutely astounding."
Andy Hobson, managing director of Fantastic Media in Huddersfield, pledged £500 to the appeal.
He said: "We need to recognise that it is the people who are keeping these clubs alive.
"Anything we can do to give a little back can only stand them in good stead in the future."
Tickets bought with appeal money will be delivered personally to their recipients by club ambassador and former Huddersfield Town player Andy Booth.