Bronte writing desk comes home to Haworth Parsonage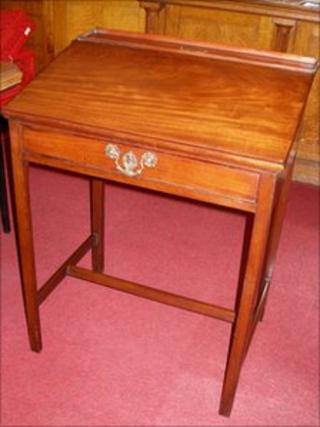 The desk on which Charlotte Bronte wrote her classic novels will go on display at her former home in West Yorkshire, having been hidden for over a century.
The desk is to be shown at the Bronte Parsonage in Haworth after being given to the museum by an anonymous donor.
Charlotte Bronte, author of Jane Eyre, wrote at the desk in the now world-famous parsonage in the 19th Century.
The mahogany desk has been held in private collections for over 100 years.
It was once part of a collection owned by William Law, an avid collector of rare Bronte-related material.
After Mr Law's death in 1901 the collection passed to his nephew, Sir Alfred Law.
Sir Alfred died in 1939 and the whereabouts of his collection of Bronte rarities has remained a mystery ever since.
'Rare donation'
However, a number of items from the Law collection did go up for auction in December 2009, including Charlotte Bronte's desk which was bought anonymously for £20,000.
Other items from the Law collection which have been donated to the Bronte Parsonage Museum include a pen holder, sugar tongs and copies of Bronte books.
Museum director Andrew McCarthy said it was "always exciting" when new Bronte items came to light.
"But a donation on this scale, with an item as significant as the writing desk used by Charlotte Bronte, is very rare," he said.
"We are delighted that these items are now where they belong, here in Haworth, where they can be enjoyed by generations of visitors to the museum."
Charlotte Bronte's desk will go on show at the Parsonage Museum from Tuesday 31 May.