Man who declared 'I am Leeds' is honoured with plaque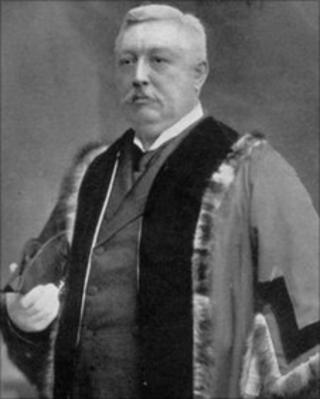 A man who led the city council in the early 20th Century and declared "I am Leeds" has been honoured with a blue plaque at his former home.
The plaque celebrates the outstanding contribution to the success and growth of Leeds made by Sir Charles Wilson.
It will adorn Brandsby Lodge on Chapeltown Road, now part of the Northern School of Contemporary Dance.
The unveiling was conducted by the current Lord Mayor of Leeds, James McKenna.
Jane Dowson, chair of plaque sponsors the Chapeltown Heritage Advisory Group, said it was the first of a series of blue plaques which will celebrate the heritage of Chapeltown and its diverse community.
Lynda Kitching, Chair of Leeds Civic Trust, said: "Chapeltown has a wonderful architectural heritage and the Trust is delighted to be able to highlight the association between one of its imposing mansion houses with Sir Charles Wilson, one of the greatest and charismatic of the city's 20th Century politicians."
Force of personality
Sir Charles was born in Brandsby-cum-Stearsby, near Easingwold, in North Yorkshire.
He worked as a clerk for the North Eastern Railway Co., and made his name in Leeds with his Friendly Society work for the Foresters and Oddfellows, and administration of a medical charity.
In 1890 he was elected Conservative councillor for Leeds North ward.
He was made an Alderman 17 years later and proceeded to the position of council leader, a post he held for 20 years, despite the fact that his Conservative Party never had an overall majority of council seats.
It was his sheer force of personality and skill in political manoeuvring that enabled him to control the council.
He was also chairman of the finance committee - his "own Chancellor of the Exchequer", as he put it.
He was highly ambitious for Leeds and hoped the city would one day control a unitary authority which extended over the vast area from the Pennines to the sea.
His policy led to Leeds' acquisition of the Shadwell, Roundhay, Crossgates and Seacroft areas in 1911; Middleton in 1919; Adel in 1924; and Temple Newsam, Alwoodley, Eccup and Austhorpe in 1928 via the Leeds Corporation Bill.
When questioned in committee, Sir Charles said: "There is nothing foolish about me saying 'I am Leeds' because I claim to represent Leeds - the spirit of Leeds - that will not be beaten by anything or anybody".
In 1923, Wilson was made a freeman of Leeds and knighted for "public and political services in Leeds".
That same year, at the age of 64, he entered Parliament as MP for Central Leeds, a seat he held for six years.
He then returned to Leeds City Council as leader of the Conservative group until September 1930, when he stepped down for health reasons. He died two months later.