Olympic torch destined for Leeds before 2012 Games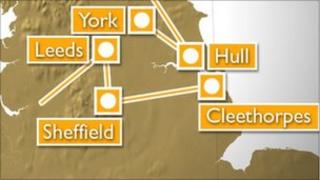 The Olympic torch is set to arrive in West Yorkshire in June 2012 as part of a 70-day tour of the UK.
The torch will arrive in Leeds on Sunday, 24 June on its journey from Land's End, Cornwall, to the Olympic stadium, arriving on 27 July.
Organisers of the Games said the torch would travel 8,000 miles around the UK before reaching the stadium.
The torch's six-day tour of the Yorkshire and Humber region has been welcomed by tourism officials.
Gary Verity, chief executive of Welcome to Yorkshire and chairman of Yorkshire Gold - the organisation responsible for promoting the Olympic games in Yorkshire - said it was terrific news.
'Give a flavour'
Mr Verity said: "Hosting the torch over six days in Yorkshire and Humber is terrific news.
"This offers us a great opportunity to profile everything that is fantastic about the Yorkshire and Humber region to a worldwide audience.
"I urge everyone to play their part in making sure we make the most of this once-in-a-lifetime occasion."
The torch will stay overnight in Leeds en route to light the cauldron in the Olympic Stadium.
'Inspiring impact'
Leeds City Councillor Adam Ogilvie, said: "This is wonderful news for the city and is sure to go down in the history books for future generations to read about - the day the Olympic Flame came to Leeds."
City of Leeds diver Rebecca Gallantree, who competed for Great Britain at the Beijing Olympic Games in 2008, said: "I've experienced the inspiring impact that the Olympic Flame can have on athletes myself and I'm looking forward to seeing the people of Leeds being equally inspired by it."
Lord Coe, chairman of the London Organising Committee of the Olympic and Paralympic Games, said: "The Olympic flame will shine a light right across every nation and region of the UK and showcase the very best of who we are and where we live.
"The first locations on the route confirmed on Wednesday give a flavour of the reach the Olympic torch relay will have around the UK and how extensive the opportunity for starting to celebrate the London 2012 Olympic Games will be."