Award-winning Chelsea Flower Show garden opens in Leeds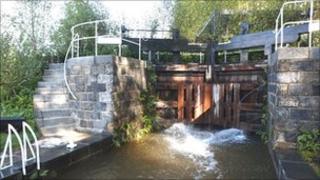 A garden which won a historic gold medal for Leeds at the Chelsea Flower show in 2010 is to finally open to visitors in its home city.
Created by Leeds City Council's parks and countryside service, the garden features two 12ft (3.6m) high lock gates and a mock canal.
The Chelsea Flower Show award was the first time a Leeds garden had won a gold medal at the prestigious event.
The garden will be opened to the public at Roundhay Park on Tuesday 17 May.
The success of the 2010 garden marked the first time in the history of the Chelsea show that a local authority had won gold in the elite large outdoor show garden category.
'Superb achievement'
The 2010 garden will go on view at Roundhay Park alongside Leeds City Council's 2009 Chelsea Flower Show entry which won the silver gilt flora award.
The Lord Mayor of Leeds, James McKenna, will conduct the opening ceremony.
Mr McKenna said it was a "tremendous honour" to open the award-winning gardens to the public.
"They are going to attract thousands of visitors to Roundhay Park in the months and years to come," he said.
"Winning the gold medal for the first time was a superb achievement which made the whole city really proud."
Finishing touches are now being made to Leeds City Council's entry for the 2011 Chelsea Flower Show which starts on 24 May.