Christmas lights funding dropped by council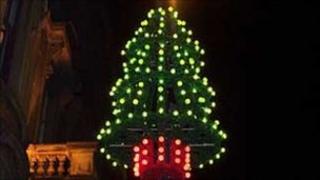 Christmas trees and festive lights in towns in the Leeds area will not be funded by the city council.
The Labour-led city council has said it can only afford to pay for a celebration in Leeds in 2011.
Lib Dem group leader Stewart Golton has criticised the plans, which he claimed would hit independent retailers at their most important time of the year.
Rothwell, Morley and others celebrate with their own lights switch-on each year.
An email from Adam Ogilvie, the cabinet member for leisure, states the council will continue to fund events in Leeds city centre, but not in town and district centres.
Mr Golton said that large retail chains could afford to contribute to the costs of hosting events in Leeds more easily than independent traders in towns.
'Shops' survival'
"Christmas lights events drive trade to our town centres like Rothwell at the most important time of the year for retailers.
"They mean much more to the independent shops in places like Rothwell whose survival depends on local trade than the big city centre chain stores.
"It is wrong to exempt the city centre from these plans."
Mr Ogilvie said government cuts had led to "unprecedented savings" and, therefore, difficult decisions.
"Leeds' Christmas lights are a great spectacle, so writing to people to tell them that we will no longer be supplying them to areas outside the city centre was not something I enjoyed doing.
"The council devolves a great deal of funding to the area committees which they can choose to spend as they see fit.
"Therefore councillors can choose to use this to pay for trees and lights or perhaps look for sponsorship from local businesses.
"Our priority is to protect front line services and I feel that the majority of people would agree that this has to take priority over Christmas decorations."