Leeds gets new big-screen technology on roads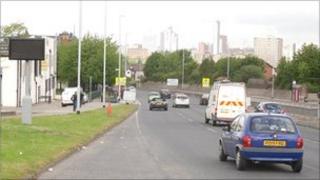 Drivers coming into Leeds will soon see new roadside traffic information screens in use.
It is the first place in the UK outside of London to use this flexible technology.
Leeds City Council is installing 11 new screens outside the ring road at "decision points" on the approaches into the city centre.
The high-definition, two-colour screens will be used to warn about any major incidents affecting traffic.
The city council's urban traffic management and control (UTMC) centre will control the screens, posting urgent traffic messages and giving notice of road works.
'Urgent information'
The signs are at points around the ring road where motorists can choose to take an alternative route if they learn of a problem on a road ahead
They are 1.5m (5ft) wide and 1m (3ft) high and are set on a single post to make them as unobtrusive as possible when not in use.
Gordon Robertson, UTMC manager, said: "Most of the time the signs will be blank, they will only be in use when there is some urgent information to impart.
"The screens will put the decision in the hands of the road user as to what they should do."
The screens are planned to have a high impact on the motorist, with flashing icons, and are designed to be easy to change and update, making the system very flexible.
The signs are being installed during May and one of their first planned uses is for news of major road works on the tunnels of the inner ring road during some weekends in June. But the council has said they could be used earlier in the case of an emergency or major disruption.