Third body found near Bradford lane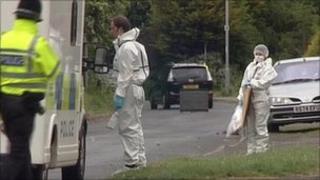 A body has been found on fire in West Yorkshire close to a road where the bodies of two men were discovered.
West Yorkshire Police said firefighters found the body in a bonfire near Holme Lane, in the Holme Wood area of Bradford, at about 0630 BST.
It was so badly burned the gender of the person is not yet known.
A murder inquiry was started after two bodies were found in a lane in Tong on Tuesday. Police said "at this stage" they were not linking the incidents.
West Yorkshire Fire Service said it was called to Holme Lane at about 0613 BST to attend a "fire in the open" and discovered the body on a bonfire.
'Badly burnt'
The person was dead when crews arrived.
Det Supt Paul Taylor, of West Yorkshire Police, who is leading the inquiry, said: "Although the incidents are geographically close, there is nothing to suggest at this stage that they are linked.
"Our investigations are ongoing and work will now begin around identification."
Police have cordoned off a nearby park and Denbrook Avenue as part of the investigation.
The latest discovery was made about 500m (545 yards) across fields from where the bodies of the two unidentified young men were found in New Lane near its junction with Raikes Lane by a passing motorist shortly before 2230 BST on Tuesday.
The two victims were aged in their mid 20s to 30s and officers are trying to establish their identities.
Police said a post-mortem examination of one of the men revealed he died from head injuries.
A post-mortem examination on the second man is due to take place later.
Mr Taylor said he was working closely with Det Supt Dick Nuttall, the officer investigating the incident in New Lane.
The area where the first two bodies were found is open countryside with green meadows and pockets of woodland, a mile or two from the suburbs of south Bradford.
Mr Nuttall said: "Inquiries are progressing with regards to the formal identification of these men and we are working to establish their movements in the hours leading up to their death.
"We are still very interested to hear from anyone who may have been in the New Lane or Raikes Lane area and have seen anything suspicious in the few hours leading up to this incident."
Resident Valerie Williams said: "It's frightening to see the police about and tape all over the place."
Community leaders said a lot of work had taken place to regenerate the nearby Holmewood estate in recent years
Labour councillor Alan Wainwright, one of the councillors who represents the Tong ward, said he was "absolutely shocked" by what had happened.
He said: "It's a very good area despite what people would say about it being a notorious estate. It's quiet, it's a family area."