Leeds City Council plans to close 15 libraries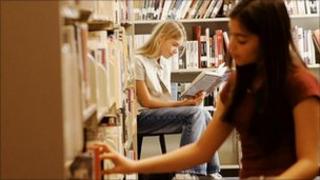 Fifteen libraries in Leeds could be closed as part of a major shake-up of the service.
The council plans to replace them with mobile services and extend opening hours at many of the city's remaining 33 libraries.
The council said it would not lead to redundancies and would save the authority £625,000 a year.
The proposals, drawn up following a public consultation, will be decided by the executive board next Wednesday.
The council said currently a large part of its budget was invested in running, staffing and stocking buildings with some only open a few hours a week.
'Good resource'
A report to the council said: "This is not offering taxpayers best value for money as a million pounds worth of books and computers are unavailable most of the week."
It said a 10-week public consultation gave a "strong mandate for change" with 82% of respondents to a survey "agreeing the council should consolidate the number of libraries it has and improve the quality and location of those that remain".
Under the proposals, the closures would be replaced by a mobile service.
The council said this would offer "state-of-art new facilities direct to the heart of communities and to the doorstep of users of all ages with new routes and stops all over the city".
Catherine Blanshard, the council's chief officer for libraries, arts and heritage, said a trial had shown this to be a success.
"We found we actually got to a lot of people who never thought of using the library.
"When we took it to them they suddenly realised this was a really good resource for them."
The 15 libraries earmarked for closure are: Allerton Bywater, Armley Heights, Belle Isle, Broad Lane, Cow Close, Drighlington, Holbeck, Ireland Wood, Kirkstall, Lofthouse, Osmondthorpe, Rawdon, Richmond Hill, Swarcliffe and Swinnow.
The council said the possibility of a transfer to volunteer or community use would be explored at a further two library buildings while three others would remain open for 15 hours a week.