Famous 'Railway Children' bridge saved by cash award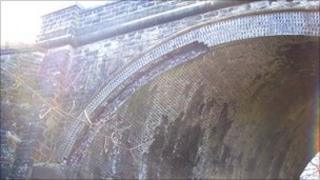 A West Yorkshire bridge featured in the 1970 film The Railway Children has been saved amid fears over its future.
Frost had damaged the bridge at Mytholmes near Haworth on which Jenny Agutter was filmed waving her petticoat to stop a train hitting a landslide.
If the deterioration had continued, trains would not have been able to run along the full length of the historic Keighley and Worth Valley Railway.
Repair work can now go ahead after grants and donations of £100,000.
The damage to Bridge 18 was the result of severe winter frosts.
A grant of £25,000 was awarded to the railway by the South Pennines Leader Fund.
A further award of £20,000 was given by tourist organisation Welcome to Yorkshire.
'Huge response'
The remaining cash, amounting to over £50,000, came from the Keighley and Worth Valley Railway Charitable Trust and what is described as "a huge response from the general public" via an ongoing appeal.
Matt Stroh, Keighley and Worth Valley Railway chairman, said he was delighted the repairs could now go ahead.
"We can get the work done and see the railway running for many years to come," he said.
Gary Verity, chief executive of Welcome to Yorkshire, said: "This is an historic railway, steeped in history and the home of The Railway Children - an iconic film which is famous worldwide.
"It is a key visitor attraction, which is why it was important we lent a helping hand."
The railway's appeal for funds continues, with around £150,000 still needed to repair a nearby bridge.