When Bradford City won the FA Cup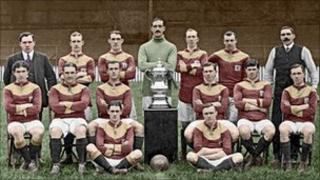 A new exhibition celebrates the centenary of Bradford City winning the FA Cup for the only time in its history.
The Bantams became the first holders of a new trophy when they defeated Newcastle 1-0 in a replay at Old Trafford on 26 April 1911.
The cup was made that same year by Bradford jewellers Fattorini and Sons.
When the FA Cup Came Home will run at Bradford Industrial Museum until 12 June.
The Reverend Paul Flowers of Bradford Council said the exhibition "will provide a glimpse of Bradford life at the beginning of the 20th Century".
War casualties
Some of the players were later killed during World War I, including Jimmy Speirs, Bradford City's captain and goal scorer in the 1911 final. He was killed at Passchendaele in 1917.
The exhibition charts the team's journey to FA cup success telling the stories of the players.
Eight of the team that day were Scottish, including Speirs.
As part of the exhibition, Bradford Museums and Galleries has secured the loan of five of the medals that were presented to members of the victorious team.
The museum has also been loaned objects from the 1911 FA Cup final by the National Football Museum, which is relocating to Urbis in Manchester.
An estimated 100,000 people welcomed the team back to Bradford outside the old Exchange station and it took the entourage more than an hour to make the short journey to a reception at the Midland Hotel.