Campaigner Debbie Purdy 'stopped suicide plans'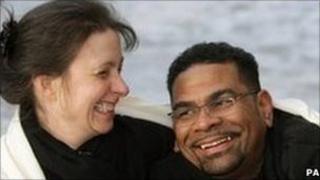 Right-to-die campaigner, Debbie Purdy has revealed she cancelled plans to end her life following a landmark ruling.
The multiple sclerosis sufferer went to the House of Lords to clarify whether her husband would be prosecuted if he helped her to end her life.
It was ruled that if he was judged to have acted with compassion he would not be prosecuted.
Ms Purdy said had she not pursued the clarification she would have had to end her life two years ago.
'My life is not unbearable'
The campaigner from Bradford said that prior to the legal clarification she was preparing to go to Switzerland to end her "not unbearable" life while she was capable of travelling alone, without involving her husband, Omar Puente.
She said the ruling meant she was able to postpone the plans indefinitely, knowing that Mr Puente would be able to accompany her abroad in the future.
Ms Purdy said: "Two years ago, when we won in the House of Lords I was halfway through preparation to go to Switzerland because I was losing the use of my arms and I was terrified of what that would mean for me.
"But the thing is I haven't made up my mind about what I want to do because my life is not unbearable.
"But I would have been dead for two years by now if we hadn't have won."
Ms Purdy said following the ruling she was confident enough to cancel the plans in the knowledge that her husband would not be held accountable for her death in the future.
But she added: "It wasn't the best solution we could have.
"It didn't change the law. It didn't make it possible for me to ask my doctor to help me in this country but I know that if my husband helps me push my wheelchair they will examine his motivation."