AV debate challenges youth apathy at Keighley College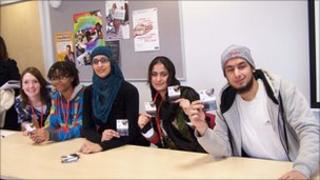 Engaging people in a real debate about electoral reform is difficult at the best of times.
When the audience is a crowd of Keighley College students cajoled into attending with the promise of free sandwiches, it gets even harder.
Undeterred, young volunteers with the SHM Foundation held a debate about the AV system at the West Yorkshire college on Thursday.
The aim, said Rose Dowling, director of the charity's Political Academy, is to challenge apathy among young people.
The team of SHM Foundation campaigners, aged between 16 and 25, will be running debates, staging public events and spreading the word through social media ahead of the 5 May referendum.
Ms Dowling said the group was seeking "to test the power of a new model for engaging young voters".
But among the group of students gathered in Keighley, there was little appetite for political debate.
"I know it's about voting... you hear about it on the news but it doesn't really make any sense," said Danielle Turner, 22, a health and social care student from Bingley.
'Breaking barriers'
Ingi Hughes, a pupil at The Grammar School in Leeds and one of the SHM Foundation's youth volunteers, said young people did not always make the connection between their daily lives and politics.
"They think it's all middle-aged white men on TV talking about really important things that they don't understand or don't care about."
The charity wants to change those perceptions and "break down the barriers" between young people and politics, said Ms Dowling. It is not an enviable task.
According to a Hansard Society report published last year, people under 35 are the most "disengaged" with and "mistrusting" of politics.
The Electoral Commission also found that, ahead of the 2010 general election, about 56% of 17 to 24-year-olds were not registered to vote.
Listening to the young people at Keighley College, it was clear why.
After a spirited debate from the four campaigners arguing for and against AV, invitations for responses from the audience were met with silence.
Eventually, one girl at the front piped up: "I'm sorry, but I don't see why I should care about this."
"All politicians are as bad as each other anyway," added the boy next to her.
'Vote wisely'
Not all of their colleagues were as dismissive, with Danielle Turner and her health and social care course-mates Fern Waugh, 17, and Nikki Whiteoak, 16, admitting that they know there are issues that affect them.
"I heard about NHS cuts and I know that will affect us because of the profession we are going into, but we don't know anything about who to vote for," said Ms Whiteoak.
Sophia Hussain, 23, from Bradford, who is studying beauty at Keighley College and was also on the SHM Foundation's debate panel along with her brother Kashif, said it was a problem of communication.
"One girl told me 'we don't understand politics, the parties, the manifestos - we don't know what it means'," she said. "We need to speak in a language people understand."
Despite Ms Hussain's passionate argument for AV, her brother's team's defence of the existing system won out on the day.
"It doesn't actually matter how you vote," Nayar Mirza, a Leeds Met student, also on the debate panel, told the audience. "Please just use your vote wisely and remember that you have a voice."