Wakefield bus drivers to turn into art critics?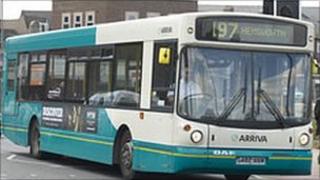 "Yes, it's got echoes of dadaism with a soupcon of surrealism."
Not the usual exchange you might expect with a bus driver but for passengers in Wakefield that could soon be changing.
Drivers took a break from their usual routes to dip their toes into the world of fine art as part of an initiative to encourage tourism in the city.
The initiative sees tourist organisation Welcome to Yorkshire join forces with Wakefield Council and Arriva Buses.
The idea is to give drivers the knowledge to advise visitors and residents boarding their buses about new developments in Wakefield.
A dozen drivers spent a day learning about The Hepworth, Wakefield, and the county of Yorkshire as a whole.
The exercise is all part of the Yorkshire Pride customer service training offered to tourism organisations by Welcome to Yorkshire, ensuring visitors leave Yorkshire enthused and wanting to come back for more.
Artistic legacy
Tracey Holt, a driver from Arriva's Wakefield depot, said: "This is something so different. I'm really looking forward to passing on my new found knowledge about Barbara Hepworth to my passengers, friends and colleagues."
The new Hepworth Gallery aims to celebrate the region's unique artistic legacy and exhibit the work of major contemporary artists.
The gallery has been named after sculptor Barbara Hepworth (1903-1975), who was born in Wakefield and went on to become an internationally-renowned artist.
Andy Wallhead, corporate director for regeneration and economic growth at Wakefield Council said: "We are delighted that Arriva Yorkshire is working with us over the next few months to welcome visitors to the area.
"The opening of The Hepworth and Trinity Walk will attract many people to Wakefield and we are working with organisations like Arriva to make sure those visitors have a fantastic experience, so they return to see what else the area has to offer."
The Hepworth Gallery opens its doors to the public on Saturday 21 May 2011.