Otley Cross help needed to hoist Easter symbol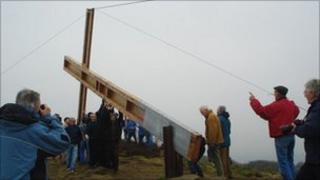 Church leaders are asking for volunteers to help hoist a large wooden cross weighing two tonnes on to a ridge overlooking Otley.
At least 50 people are needed to haul the 46ft (14m) cross into position on Otley Chevin on Saturday.
John Burland of Otley Methodist Church said: "The more people on the ropes the more stable it is."
The cross sitting on the 925ft (280m) Chevin, first installed in 1969, is an Easter symbol that lasts four weeks.
The erection of the cross is organised by the Otley Council of Christian Churches.
The cross is made up of three sections and is delivered to the ridge on the back of a lorry.
Mr Burland said: "It's a symbol for residents and visitors to be reminded of the power of the Easter story."
It will stand at Surprise View, which commands panoramic views over Otley and up to 35 miles (60km) beyond on a clear day.
Volunteers are asked to turn up at 0915 BST on Saturday.
The lorry carrying the cross will leave Otley at 0900 BST.
The car park for Surprise View is off York Gate, opposite the Royalty pub, a short walk from the escarpment.