Bradford's Manningham Baths face closure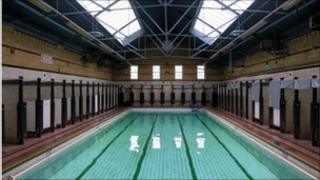 An Edwardian swimming baths in Bradford has been earmarked for closure following council spending cuts.
The council said the baths needed "expensive modernisation" and closure would save around £120,000.
The rare Edwardian building is one of only 14 such baths in the country still open for public swimming.
Dr Ian Dungavell of the Victorian Society asked the council to spend "the bare minimum to keep it open" until the economy improved.
Dr Dungavell said the baths were "important on a national level".
There are only 50 listed Victorian and Edwardian pool buildings in the country.
The building in Manningham was designed by Bradford city architect, Frederick Edwards and opened in 1904.
'Budget decision'
The pool still has its original changing cubicles, along the side of the pool, tiling and several ceramic spittoons.
Dr Dungavell told BBC Radio Leeds: "It's like stepping back in time.
"When it is closed it will never reopen... conditions will deteriorate even further."
He said that the pool was well used and liked, but avoidable maintenance problems had caused conditions to worsen.
Councillor Ian Greenwood, leader of Bradford Council, said: "The planned closure of Manningham Pool is a budget decision based on it needing an expensive modernisation.
"The proposal will save the council nearly £120,000 as part of a £30m overall package of cuts."