Frank Pagden BBC Radio Leeds former faith producer dies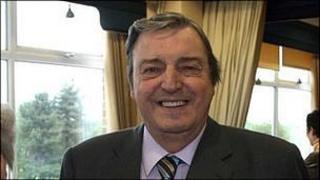 Reverend Frank Pagden, the first ever religious producer at BBC Radio Leeds has died at the age of 80.
Mr Pagden was a producer at the station when it began in 1968 and did the job for nearly 20 years.
He was seconded from the Methodist church to the role and became a well-known voice on the station.
When he retired from the BBC, he returned to the Methodist ministry in Horsforth, part of the Leeds Wesley circuit of churches.
In his final broadcast in 1987, Frank Pagden said: "When I started I thought that I would be a great lighthouse of truth proclaiming the certainties far and wide to a naughty and noisy world.
"But I found I wasn't any good at that.
"So I settled for being one of God's cats' eyes, down at ground level, out in all the muck and wet, and hammered into the ground by all the passing traffic.
"But if, after being run over, I can faithfully pop up again with my eyes newly wiped and ready to guide pilgrims safely a few feet further on their life's journey, then I am happy with that."