Prisoner 'was scalded' by Barnsley detention officer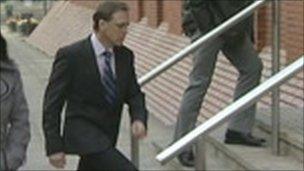 A detention officer from South Yorkshire Police "deliberately" threw a cup of almost boiling water over a disruptive prisoner, a court has heard.
Adrian Law, 45, allegedly threw the hot water over a man in custody at Barnsley Police Station.
Abdul Aziz Alfadley, 26, said he suffered scalding injuries to his lower abdomen and genitals.
Mr Law, of Cranwell Court, Goldthorpe, is accused of causing grievous bodily harm with intent at Leeds Crown Court.
The court heard that Mr Law was working as a detention officer on 30 May last year when Mr Alfadley was taken to the station for a public order offence.
He was described as being agitated and disruptive and it was decided he should be strip searched.
Mr Alfadley was taken to a cell in his underwear where he was heard shouting and banging on the cell door.
The jury heard that Mr Law allegedly went to a kitchen and filled a cup from the hot water boiler before returning to the cell and throwing it over the prisoner through a hatch in the cell door.
Jeremy Hill-Baker, for the prosecution, said: "What Mr Alfadley experienced was someone looking in, then a few moments later the hatch opened and a hand reached through and the contents of a white plastic cup being thrown on to the lower abdomen and genital area.
"That was very hot water, almost at boiling point, having been obtained by Mr Law and deliberately thrown in the cell on to him."
Mr Hill-Baker said Mr Alfadley "screamed out in pain" and tried to alleviate it by dowsing himself in cold water from a tap in his cell.
The jury was shown pictures of Mr Alfadley's injuries which included reddening and blistering of the skin and told that tests revealed the water in the kitchen boiler to be heated to 94.7 degrees centigrade.
Mr Alfadley told the court through a translator: "I didn't hear anything. I saw somebody looking at me. After two, three or four minutes he brought a cup of water and he poured it on my body.
"I thought I had lost my sexuality. I was no longer a man."
Mr Law is currently on bail, and the case continues.
Related Internet Links
The BBC is not responsible for the content of external sites.