'Sham' bride and groom arrested at Leeds Town Hall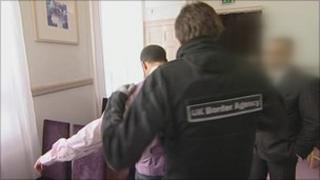 A bride, groom and five wedding guests have been arrested in Leeds following a suspected sham marriage ceremony.
Immigration officers from the UK Border Agency entered Leeds Town Hall on Monday morning.
The Pakistani groom, 23, and his bride, a 22-year-old Slovak woman, were arrested as they were about to take their vows.
Three Pakistani men and two Slovak women in the wedding party were also arrested and questioned.
Police searched a number of addresses in the city as part of their investigations.
A marriage is considered to be a sham when a non-European national marries someone from the European economic area or the UK as a means to stay in the UK, gaining the right to work and claiming benefits.
The UK Border Agency said that since last summer 155 people have been arrested for sham marriages across the UK.